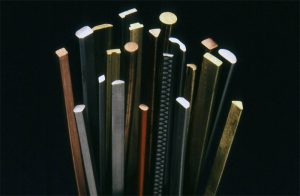 Don Radcliff founded Radcliff Wire in 1959, the same year the Twilight Zone premiered on television. Both events simultaneously introduced something unique and enduring.
The Twilight Zone offered a broad variety of genres that included fantasy, science fiction, psychological thriller, suspense, and horror. Each episode was uniquely different, and viewers couldn't wait to tune in each week. It quickly became a top-rated show.
Radcliff Wire offered something new and different, too. The company offered spring manufacturers a broad variety of special-shaped wire that they couldn't find anywhere else. Radcliff Wire soon became a top-rate wire supplier among spring manufacturers.
Since then, company has evolved to support many industries beyond spring manufacturers, including aerospace, automotive, electronics, industrial, and medical. Our special-shaped wire is used everywhere around the globe.
It's used to make the clips used to attach fuel lines on aircraft, and some of our more complicated special shaped wire can be found in the eyeglass frames, watch bands, and other jewelry items that people wear every day.
In our previous blog post, we mentioned the many applications for spooled wire, but Radcliff Wire's cut-to-length rolled wire has myriad applications, too. It's used in track lighting, overhead garage doors, and refrigerator doors. When it's cut-to-length, it's easier to store and more convenient to use. Assembly processes are accelerated, too, when Original Equipment Manufacturers (OEMs) have precision cut-to-length wire on hand.
Our precision wire shaping techniques allow us to produce cut-to-length wires in shapes that include diamond, triangle, keystone, house, crescent, and trapezoidal. We are constantly working with companies to produce, unique custom shapes. Recently, we worked with the medical industry to design a square rachet wire for a surgical instrument that's used to repair vertebrae.
We've come a long way since 1959, but some things haven't changed. You can still watch the Twilight Zone on television when the Syfy channel airs its marathon on New Year's Eve, and Radcliff Wire is still the company manufacturers turn to for special shaped wire that's difficult to find anywhere else.
When you need cut-to-length rolled wire, don't travel to another dimension, Contact Us.