The Quality of Your Product Begins with The Quality of Our Product.
Our Commitment to Quality – To provide quality products, we start with only those raw materials that meet our stringent requirements. After we've chosen the material, we develop a manufacturing process that will produce the wire's specified shape and mechanical properties.
Everyone at Radcliff Wire is invested in quality, from the employee who receives the customer order to the person responsible for shipping the final product. When you rely on Radcliff Wire, you can be sure nothing will be overlooked. All of our team members are proud of our ISO 9001 certification. It reflects our commitment to quality and our steadfast dedication to providing our customers with superior products they can depend on.
Click here to obtain a printable copy of our ISO-9001:2015 certification.
All of our materials are inherently compliant with the European Union's (EU's) REACH compliance regulation. Radcliff Wire does not add any non-compliant chemicals to raw material during processing. Therefore, any raw material that is compliant by the definition of its chemical composition will remain REACH complaint throughout our processes.
Testing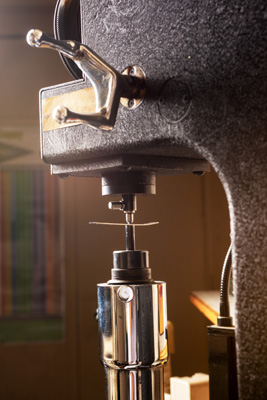 Radcliff maintains the equipment necessary to ensure that our wire meets specified requirements. All equipment is calibrated on a strict schedule and all calibrations are traceable to national standards. In addition to the usual collection of micrometers and calipers, our special equipment includes:
Hardness Testers – 3 standard Rockwell hardness testers provide the ability to check the hardness on flat, square and some special-shaped material.
Tensile Testers – 3 tensile testers which cover the full spectrum of our available materials. Yield and elongation are available on many sizes.
1 Knoop/Vickers micro-hardness tester – for more difficult shapes and smaller size material
1 Ames portable Rockwell hardness tester – allows for in-line testing and initial setups
Microscopes – 5 microscopes with magnification up to 40x including reticle eyepieces allowing us to carefully monitor corner breaks and surface finish throughout the shaping process.
Laser Micrometers – 2 laser micrometers used to ensure accurate measurements on round wire throughout the wire drawing process
Optical Comparators – 2 optical comparators used to view and measure our prevalent profiles.
Metallurgical Mounting & Measuring – We have the capability to mount and polish samples with complex profiles so that they can be accurately measured using a Digital Video Image Generator. Samples can be viewed at magnifications up to 385x
Training
At Radcliff Wire, we understand that the quality of our wire is largely dependent on the abilities of our employees. That is why we provide our employees with rigorous, structured training ensuring a competent, cross-trained staff to process customer orders. New employees are paired with skilled craftsmen until they are proficient on their own.
Every position under our roof has been examined for the skills and knowledge necessary for success. This has led to a list of required training items for each position, and completion of these items is tracked in our Training Database. Employees are reviewed annually for competence in their trained position(s) to verify their continued ability to meet customer requirements.
They say that experience is the best teacher. If that's true, then we have the best educated staff in the business. The average Radcliff employee has 15 years of experience in the wire business. We are proud of our retention rate, and confident that our training and experience provide the products and service that our customers deserve.