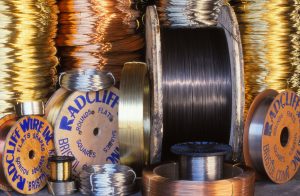 Radcliff Wire has the flexibility to supply your wire on packages that can be as unique as your use. We stock a wide variety of spools, reels and coils. Depending on your equipment needs, you can even specify a particular arbor hole size. Check out our Packaging Specifications and Packaging Guide for more details. Once you've chosen your package we will work with you to provide the ideal delivery time for your needs.
Wire Reels & Large Wire Spools
Radcliff can provide wire on large reels or spools up to 1,000 pounds. These are great for long-running jobs where continuous pay-off will maximize productivity.
Small Wire Spools
Our wire can also be packaged on various sizes of spools for more specialized applications and pay-off equipment. These are ideal when hand loading is required.
Wire Coils
Oscillated coils, with or without a cardboard core, are available in weights up to 500 pounds. All round and most square wire can also be supplied on "catch weight" coils.