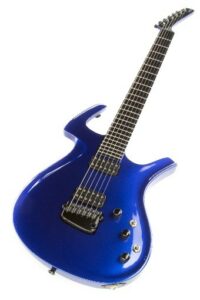 Most classic rock fans know who Grand Funk Railroad (GFR) is. They ruled the radio in the seventies with a steady stream of hit songs that included "We're an American Band", "Some Kind of Wonderful", "The Loco-Motion", and "I'm Your Captain." The band's songs are still regularly played on classic rock stations around the world.
What most people don't know, however, is how the band is affiliated with Radcliff Wire.
It began in 1996, when GFR's lead guitarist Mark Farner had neck surgery. Afterward, his doctor warned him not to put anything around his neck that weighed more than five pounds. This meant he could no longer play his trademark Stratocaster and Les Paul guitars. He needed a much lighter one that could produce the same sound quality.
He found what he was looking for with the Parker Fly guitar, which weighs just under five pounds.
In an interview with Guitar World, Farner said, "I own three of those guitars. They are hardtail guitars, which have no whammy bar, so there is no added weight from that apparatus. The Parker Fly has stainless steel frets and carbon fiber over the fretboard, so there's no fret wear. It's the sweetest guitar to play, because when you do hand vibrato, like I do, there's no interference and alternate harmonics from wood grain. I've been playing Parker Fly guitars ever since Grand's Funk's live album, Bosnia, in 1997."
The Parker Fly carbon fiber electric guitar is the lightest electrical guitar there is, and its neck piece is much thinner than those of other guitars. Because the fret board is so thin (about the same thickness as a piece of construction paper), there's no way to press a fret into it.
Realizing they had a problem with configuring and installing the frets, the Parker Guitars company reached out to Radcliff Wire for help. Our design team worked with them to engineer new fret technology for the Parker Fly.
Together, we replaced the nickel silver frets with Stainless Steel frets. The mushroom-shaped design of the old fret was replaced by a design with two grooves in the new fret, allowing them to permanently glue it to the fret board. Although wear was much less common, this would make it so you would just replace the whole thin board when necessary. The frets are glued to the board, one by one, with epoxy.
Today, the Parker Fly is the preferred guitar among many professional musicians. Dave Martone, who has played with Nickelback and 3 Doors Down, uses the Parker Fly almost exclusively.
This is just one reason why we are much more than a wire supplier. We don't simply provide what our customers know they need. We help solve their problems and provide them with ideal solutions. As a result, companies from myriad industries often insist their suppliers procure their wire from us.
It's music to our ears.
Contact us when you need help.