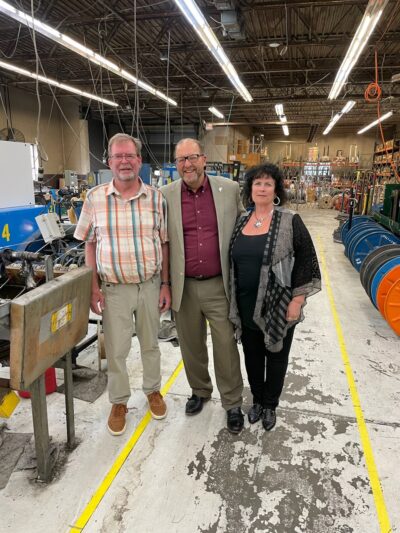 Press Release
Connecticut's Chief Manufacturing Officer Paul Lavoie toured Radcliff Wire, Inc. of Bristol, CT June 12, 2023. The visit was part of the "L4" tour Lavoie launched last year. He initiated the Lean-in, Listen, Learn, and Link (L4) tour as a tactic to support his objective to "relentlessly" communicate with all of Connecticut's manufacturing stakeholders to discuss their concerns, challenges, and needs.
Lavoie's visit to Radcliff Wire was one of countless company visits he's conducted since assuming the role of Chief Manufacturing Officer in February of 2022. He toured the facility with Radcliff Wire President Charlie Radcliff and Web Savvy Marketers Owner Beth Devine, whose company provides marketing services for Radcliff Wire.
During the visit, Lavoie said business is strong across Connecticut, but "workforce shortages remain the number one challenge for manufacturers." Building a robust workforce pipeline is one of the top five strategic initiatives Lavoie has been working on to bolster manufacturing in Connecticut.
"We have an office of workforce strategy, we have money that's going in to workforce, and we have the top workforce development initiatives in the nation," Lavoie says, "but we need people. We just need people."
Keeping college graduates in Connecticut is one of Lavoie's priorities. In a Made In America podcast with Ari Santiago earlier this year, Lavoie said, "Fifty percent of the kids that go to 4-year universities leave. I want to keep them here. If you learn in Connecticut, I want you to earn in Connecticut."
Lavoie and Radcliff discussed educational initiatives with local colleges, such as Tunxis Community College's technical center and the manufacturing programs at Central Connecticut State University.
Developing a healthy manufacturing ecosystem in Connecticut is another of Lavoie's strategic initiatives. The COVID pandemic caused supply chain disruptions that still haven't been resolved. "During the pandemic, delivery became the new currency, not price," Lavoie said.
Radcliff rented a warehouse space during the pandemic so the company could purchase wire whenever it became available, and he has three full trailers of raw materials on site to ensure he doesn't run out. "I wish I had a bull horn for my booth at the CASMI show," he said, "because so many customers stopped by to express their appreciation saying 'you really bailed me out!'
Radcliff Wire produces rolled wire for a variety of markets. During the visit Radcliff discussed the shaped mandrel wire the company makes that is used in the production of Multi Lumen Balloon Catheters for Angioplasties. There are very few other companies that supply shaped Mandrel wire, and they don't form it into the unique shapes Radcliff Wire provides. "Making our customers wait for the wire needed to produce products that are a medical necessity isn't an option for us," Radcliff says.